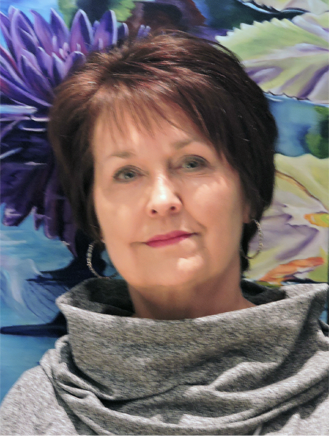 An Indiana artist, Pamela Couch's diverse and vivid oil paintings capture moments in nature with detailed realism, as well as rich color and shade stylization. Pamela specializes in still-life close-ups as well as floral and animal scene oil paintings. Each painting is inspired by natural settings and colorfully captures moments in the environment.
Focused detail, subtle transitions, and dramatic shading combine the realism of design and creative coloration to create a vibrant, joyful mood in each painting. Pamela Couch's subjects and style cover both traditional and contemporary artistic preferences. Popular animal subjects include Koi fish, cows, and seagulls; nature scenes include inspired land and waterscapes; floral art includes roses, sunflowers, poppies and lilies; and paintings of reflective glasswork and cloth patterns can also be found within her galleries.
Contemporary subjects appeal to pop-art genres with detailed close-ups of hanging clothes, shoes, fruit, and glassware arrangements. Pamela's artwork for sale is available in a range of sizes and color patterns to suit a variety of spaces and décor. Find an inspirational piece to add to your home in the online gallery.
Pamela received a Bachelor of Science and a Master of Science degree in education from Indiana University Southeast. She has also studied at the Louisville School of Art, Art Institute of Chicago, and with nationally renowned artists. She started her career as a fashion illustrator at the age of eighteen. Since 1982, she has taught art at the middle school level. Couch has also taught watercolor classes and given private lessons in drawing and watercolor. Her work has been exhibited regionally at juried and invitational shows in Illinois, Indiana, Kentucky, Michigan and Ohio.
You can contact Pamela by email: pcouchpainter@yahoo.com
Giclee prints (reproductions) of the artist's original work of art are available for most paintings. Giclee using high quality archival inks can be reproduced on canvas or acid free WC paper.